Cotswold Dry Gin
Alkoholhalt:
46.0%
Storlek:
70cl
Vårt art.nr:
CB165002
Lagerstatus
Tillfälligt slut.
Tasting notes
Nose: fresh notes of grapefruit with earthy coriander backed-up by sweet, piney juniper. A hint of perfumed Cotswolds lavender.
Palate: clean, pine juniper spice with fresh citrussy grapefruit. A touch of dryness from the angelica root, with eucalyptus notes from bay leaf. Subtle lime and lavender.
Finish: Clean and balanced. Juniper, citrus and some cooling notes from bay leaf and cardamom.

The finest ingredients
Quality – it's what the nine carefully selected botanicals that go into our gin all have in common. Juniper berries from Macedonia, coriander seed from Morrocco and angelica root from Poland form the classic foundation for our London Dry-style Gin. We then add Cotswolds lavender from nearby Snowshill and Egyptian bay leaves. The citrus element comes from freshly-peeled lime and pink grapefruit zest - unusually we use fresh peels rather than dried because of the greater quantity of essential oils. This entails peeling several hundred limes and grapefruits per week, by hand. The final botanicals are cardamom seed and black peppercorn, to give a hint of spice. Tough work, but totally worth it for the vibrant flavours and rich mouthfeel that make our gin stand out from the crowd. 
Cotswold Distillery
Whisky production is at the heart of everything we do at the distillery. Our Cotswolds Single Malt is a rich, fruity and sippable whisky. It has a balance and depth of flavour that belies its young age, due to the exceptional attention to detail in our distilling and our use of the finest oak casks for maturation.

Beställning / Kundvagn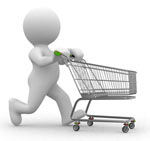 Det är lätt att beställa varor via vår hemsida.

Läs mer