Black Tot Royal Naval Rum
9590.00
7902.00 ex.moms
Alkoholhalt:
54.3%
Storlek:
70cl
Vårt art.nr:
CB107001
Lagerstatus
Slutsåld! 2023-11-13
Bottled from the Last Consignment of stock of Royal Naval Rum, which had been hidden in storage since Black Tot Day in 1970 - when the official rations ceased - Black Tot is a true piece of rum (and naval) history.

Tasting Notes by Dave Broom
The Colour - Bright, yet deep mahogany cut with flashes of ruby.
The Nose - Initial treacle notes precede dark chocolate with super-ripe black fruits, muscovado sugar and walnuts. A drop of water releases notes of black banana, liquorice root, tamarind paste with and exotic edge of balsamic.
The Palate - Starts off thick and sweet, becoming light and oaky before a burst of cassis / creme de mures then espresso & cacao.
The Finish - Very long with light scented wood, black fruits and cigar tobacco.

Colour: coffee. Nose: oh! Very 'British rum' indeed, so partly Jamaican, with the appropriate amount of tar, coal smoke, black olives, brine, chicken soup (must be the dunder pits), liquorice, heavy molasses, juicy prunes, moist cigars… But as we all know, very old spirits tend to converge, and indeed, we're slowly getting closer to some old sherried Speysider, perhaps via the Demerara River. Soy sauce, Corinth raisins, more prunes, parsley, pipe tobacco… I was even about to mention old armagnac, but I guess that would be a little too French for the British Navy ;-). With water: the fine herbs and oils from the wood come to the front (pinesap, menthol) but the liquorice never gives up. There's also a medicinal side, rather ala old Ardbeg than Laphroaig.

Mouth (neat): exceptional arrival, very tarry and extremely liquorice-y, thick yet dry, a little smoky, and ridden with all sorts of pipe tobaccos, from the most 'golden' to the blackest oriental blends. Very heavy, it reminds me of some old Wedderburns. Not exactly lace as we say here, but who needs lace when on board one of his/her majesty's warships? With water: it's the sugar cane that comes out, and it would come together with coffee and cassis eau-de-vie. BTW, great cassis eau-de-vie – not talking about liqueurs or creams - is not easy to find, but you may check Capovilla's works (hint, hint). Finish: long, perhaps a notch drying but no surprises here, and with bags of oranges. I don't know why, but it reminds me of some old Dalmores now, but I guess Dalmore was rather for the naval officers. Strong coffee in the aftertaste, ristretto style. Comments: heavy and thick rum, but there is a lightness to it and many subtleties, it just needs quite a lot of your time. But it's worth it. And now, à l'abordage! SGP:563 - 89 points. (thanks Ollie!)
- Whiskyfun.com
Black Tot
On 31st July 1970 the last rum ration was issued aboard ships of the British Royal Navy. The end of 300 years of Naval tradition, this day was to be known thereafter as Black Tot Day. Now the last consignment of Royal Naval Rum has been recovered and, after four decades in storage in wicker-bound stoneware flagons, this historic rum is finally available as Black Tot.
Beställning / Kundvagn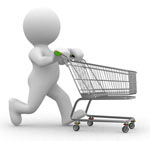 Det är lätt att beställa varor via vår hemsida.

Läs mer