Speyside Single Malt Whisky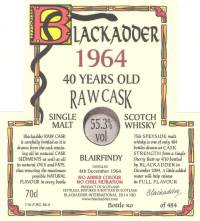 Blairfindy is a single malt from the only family owned distillery on Speyside at Marypark, Ballindalloch. For legal reasons we can never put the actual distillery name of this whisky on the label. We use the name Blairfindy because this is the name of the farm that the owning family, the Grants, came from. They are historically referred to as the "Blairfindy Grants".
Blairfindy Castle
This small castle was built as a hunting seat by the Earl Of Huntly in 1586. The original architectural details of the building can still be seen but it is unfortunately now in a dangerous condition and no access within the surrounding fence is possible.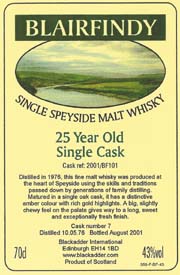 The Grants of Blairfindy, Glenlivet
According to tradition, the Blairfindies descended from William Grant, circa 1527. Situated in remote Glenlivet, a number of the sons of this family were educated at the Roman Catholic school there and supported the Jacobite cause in the 1745 rebellion. The Blairfindy Grants were known more for their achievements in foreign lands than in their native country. Abbe' Robert Grant was Principal of the Scots College at Douay in the 18th century; his brother, Abbe' Peter Grant lived in Rome. Another descendant of this family, Col. Grant, Baron de Blairfindy, was a distinguished officer in the army of France. Capt. David Alexander Grant immigrated to Canada and married a daughter of the 3rd Baron Longueuil. Their offspring succeeded as Barons of Longueuil well into the 20th century. The present owners and directors of the J & G Grant Glenfarclas distillery are also descended from this family.
John Grant, who was born in 1805 was born on the farm of Lynbeg, at Glenlivet, in the heart of Speyside, became a highly successful farmer, owning several farms in the area and breeding champion Aberdeen Angus cattle. He lived at Blairfindy Farm, just two miles from his birthplace, and married Barbara Grant in 1827. They had six children, including a son called George, born in 1830.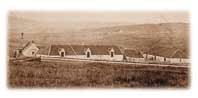 So it was only natural for George to be interested in the Rechlerich Farm, on the Ballindalloch Estate, when it became vacant in 1865. Rechlerich Farm was also renowned in the area for the Glenfarclas Distillery, established in 1836 by the previous tenant farmer Robert Hay. When John Grant signed the tenancy agreement in 1865, he purchased the distillery for £511.19s.0d. The distillery has been owned and run by the Grant family every since.
Detta är aktuellt sortiment tillgänligt via Systembolaget eller direkt från vårt lager.
Beställning / Kundvagn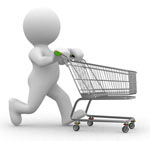 Det är lätt att beställa varor via vår hemsida.

Läs mer