Yellow Rose Rye
Blend of 95% rye whiskey and 5% malted barley whiskey
Aged in new American oak casks
Neither chill filtered nor coloured

This small Texan craft distillery owes its existence to a crazy challenge that a group of friends set themselves. Tired of the humdrum of their daily lives, in 2008 Troy Smith, Ryan Baird and Randy Whitaker decided to quit their jobs and dedicate themselves to their passion - producing craft spirits. It was only in 2010, after much deliberation, that they were able to bring to fruition this
unique project - to create the first legal distillery in Houston, Texas, a state where the procedures for opening this type of establishment are a veritable minefield.
In their minds, there was no question of reproducing what was already been done in other states such as Kentucky
or Tennessee.
Yellow Rose was the nickname given in a traditional American folk song to Emily D. West, a heroine of the War
of Independence between Texas and Mexico in the 19th century. The brand therefore proudly bears the name of this
emblematic personality. Ready to defend the colours of the Lone Star State on the American whiskey market, the range is made up of four surprising and original whiskeys.
Beställning / Kundvagn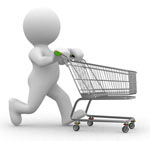 Det är lätt att beställa varor via vår hemsida.

Läs mer