Spey Chairmans Choice
John McDonough once said "Every time I am in the cellar carefully selecting the whisky, I am humbled by Gods hand in the maturing of the whisky. Even with over half a century of experience, I continue to be inspired by the pure flavor and fragrance of the whisky as If god had a hand in it. Even as it sits there, maturing in its barrel, the whisky still absorbs the finest from its environment. From the moment the bottle is open, it is an awe-inspiring feeling, like a gift from God himself ."

Smaknoteringar:
Doft: Uppfriskande med blommor och frukt med inslag av vanilj.
Smak: Unik med torkade frukter och med en mjuk, nötig smak och en krämig finish.
Eftersmak: Milda kryddor, mjuk torkad frukt med en ekig sötma.

Spey
Speyside Distillery, nestled within the magnificent Cairngorm Mountains is widely acknowledged as being the prettiest of all Scotland's distilleries.
Originally a barley mill and croft dating back to the 1700's, it finally closed in 1965.
Over the next 25 years from 1965 it was slowly and lovingly converted into a single malt distillery, which then started producing spirit on Christmas Day 1990.
The distillery draws it's water from the Spey River tributary …. The River Tromie using the old mill lade, which originally ran the waterwheel that powered the old mill.
Beställning / Kundvagn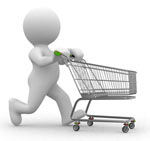 Det är lätt att beställa varor via vår hemsida.

Läs mer