El Tesoro is a brand of tequila produced at a distillery in Jalisco, Mexico, where the family that founded the distillery is still involved in the business. The producer claims to use labor-intensive traditional methods for making the tequila.
Don Felipe Camarena was an agave grower who was raised in a family that had previously been making tequila in the Mexican state of Jalisco since the early 1800s. However, after 50 years of producing tequila, the family's distillery had been destroyed during the Mexican revolution of 1910.
The actual brand El Tesoro de Don Felipe began as the product of a joint venture established in 1990 between the Camarena family and the premium tequila promoters Robert J. Denton and Marilyn S. Smith.

El Tesoro marknadsförs av Jolly Good Brands.
Clydesdale är distributör och för att underlätta kan du även hitta dom här hos oss.
Detta är aktuellt sortiment tillgänligt via Systembolaget eller direkt från vårt lager.
Beställning / Kundvagn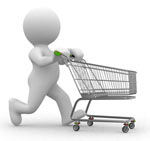 Det är lätt att beställa varor via vår hemsida.

Läs mer